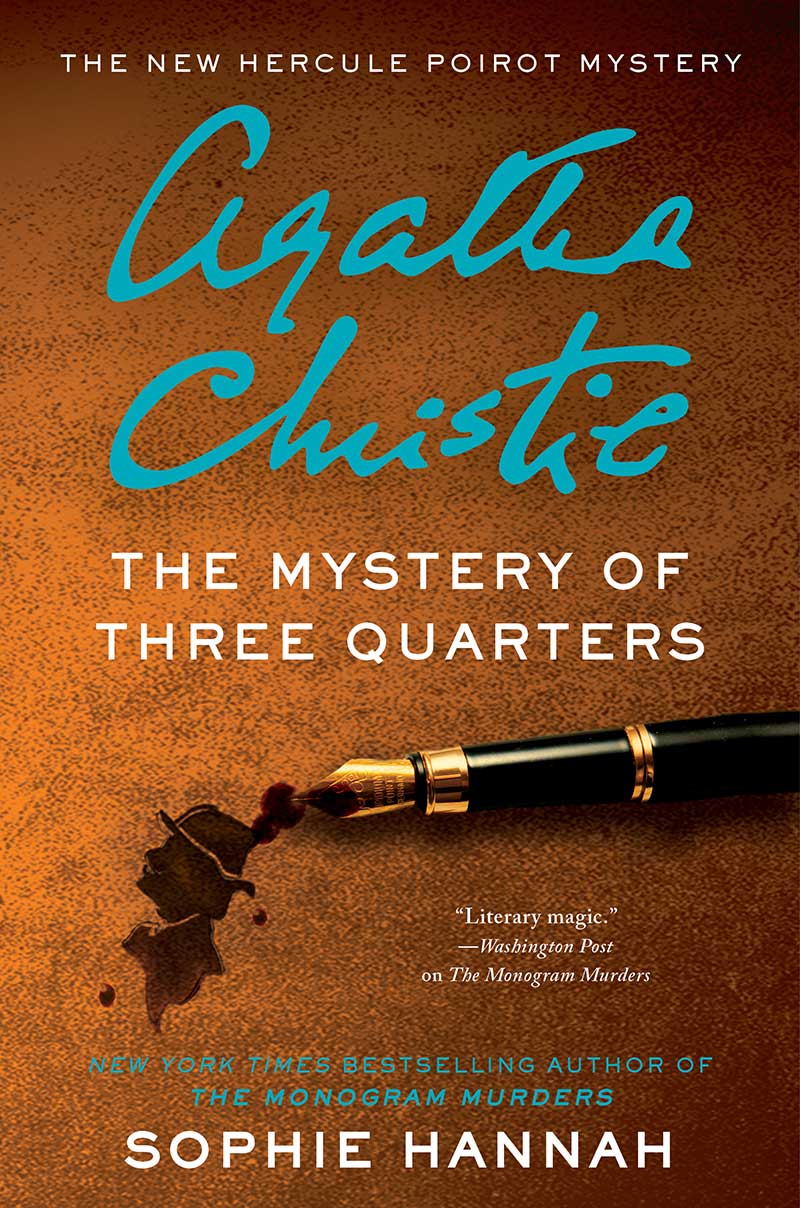 THE MYSTERY OF THREE QUARTERS
---
The Sunday Times Top Ten bestseller
Returning home after lunch one day, Hercule Poirot finds an angry woman waiting outside his front door. She demands to know why Poirot has sent her a letter accusing her of the murder of Barnabas Pandy, a man she has neither heard of nor ever met.
Poirot has also never heard of a Barnabas Pandy, and has accused nobody of murder. Shaken, he goes inside, only to find that he has a visitor waiting for him — a man who also claims also to have received a letter from Poirot that morning, accusing him of the murder of Barnabas Pandy.
Poirot wonders how many more letters of this sort have been sent in his name. Who sent them, and why? More importantly, who is Barnabas Pandy, is he dead, and, if so, was he murdered? And can Poirot find out the answers without putting more lives in danger?
"Her best Poirot novel so far."
Sunday Express

"She gets it just right. The first two were good; this one is even better."
Wendy Cope in The Week

"Another ingeniously deceptive puzzle. The premise is especially clever. The gratifying reveal is a neat variation on one of Christie's own solutions and demonstrates Hannah's facility at combining her own plotting gifts with another author's creation."
US Publishers Weekly

"Boundless ingenuity…a divinely inspired denouement."
Kirkus USA

"Hannah once again nails the style and substance of her beloved predecessor, producing another treat for Christie fans."
Booklist

"The Mystery of Three Quarters is Sophie Hannah's best Poirot novel yet. It hooks you from the beginning with a brilliant premise and doesn't let go until the very end."
Dr Mark Aldridge, author of  Agatha Christie on Screen

"Just the most enjoyable read! The characters are so well drawn. It's terrific fun."
Marian Keyes (Marian Keyes' Vlog)
If you'd like to be among the first to hear all my book news, read the occasional opinion piece in which I mistake myself for a newspaper columnist, and pick up the odd titbit of literary gossip, you can sign up to receive my regular newsletter (featuring exclusive competitions and treats only for subscribers!) here:
Get my free Review Guide to all of Agatha Christie's Poirot novels!